Artwork created at Lochmaddy and Portree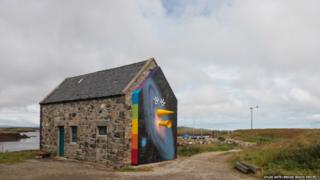 Landmark buildings on North Uist and Skye have been transformed as part of a Scottish arts project.
Generation: 25 years of contemporary art in Scotland involves more than 100 artists and more than 60 venues.
A wall on a building at Lochmaddy on North Uist and the Apothecary's Tower in Portree have been turned into works of art.
Joanne Tatham, from West Yorkshire, and Norfolk-born Tom O'Sullivan were the artists on the islands project.
It also involved Atlas Arts and the Broad Reach Project.
The art at Lochmaddy can be seen from Taigh Chearsabhagh Museum and Arts Centre.