Royal Navy rescue children and dog from Torridon floods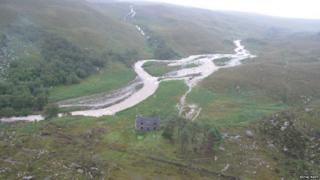 Two men, three children and a dog had to be rescued from a remote Highland bothy amid this week's stormy weather and floods, it has emerged.
They had been walking in the Torridon area when they became stranded at Craig Bothy, a former youth hostel, by water from a swollen river on Monday.
They stayed the night in the house before a Royal Navy helicopter went to their aid on Tuesday morning.
The helicopter was from HMS Gannet at Prestwick in Ayrshire.
Petty Officer Alan Speed was winched to the ground and made a check on the walkers and their dog.
They were uninjured and were able to board the Royal Navy Sea King after it had landed close to the bothy.
Navigator Lt Angela Lewis said: "The river was in full spate
"All the people and their dog were absolutely fine, but there was definitely no way they could have crossed.
"As summer weather goes, it was really horrible - windy, rainy and cooler than you would expect at this time of year.
"And the ground was sodden, which made finding a safe place to land the helicopter a little more interesting."
The group was dropped off where they had left their car.