Praise for Broadford and Fort William hospitals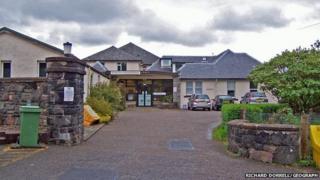 Two hospitals run by NHS Highland have been praised for the care staff provide to older patients.
The Dr Mackinnon Memorial Hospital in Broadford on Skye and Fort William's Belford Hospital were inspected by Healthcare Improvement Scotland.
HIS said its inspectors observed "caring and respectful interactions between staff and patients".
Some areas in need of improvements were identified and these included more information in personalised care plans.
Also, the layouts of the hospitals were not suited to patients with dementia, inspectors said.
Jacqui Macrae, head of quality of care at HIS, said: "This inspection has highlighted areas where Belford Hospital and MacKinnon Memorial Hospital are performing well in relation to the care provided to older people.
"We observed caring and respectful interactions between staff and patients, and found meal-times were well managed.
"Patients also spoke highly of the quality of care received."
She added: "However, we did identify areas where improvement is required. We found an inconsistent approach to the completion of patient documentation and personalised care plans did not outline individual patient needs."