New rules to tackle hill tracks in Scotland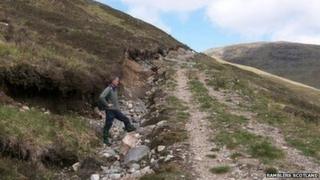 New rules on the construction of hill tracks will be introduced later this year, the Scottish government has said.
Planning authorities will need to be given prior notification and approve the laying of the rough roads.
Local Government and Planning Minister, Derek Mackay, said the move would give the Scottish countryside extra protection.
Campaigners have been calling for stricter rules on hill tracks for several years.
In 2009, the Mountaineering Council of Scotland's (MCofS) concerns about "outstandingly badly constructed tracks through previously wild areas" were raised in the Scottish Parliament.
Ramblers Scotland has also been calling for restrictions.
The MCofS said it "broadly welcomed" the government's announcement, but added it was disappointed there was not an immediate ban on bulldozing tracks without permission.
'Committed conservationists'
Scottish Environment Link, whose members include the John Muir Trust, RSPB and Ramblers Scotland, said it would continue to campaign for tracks to be brought fully into the planning system.
Landowners body, Scottish Land and Estate, said there was a need for tracks.
The organisation's Anne Gray said: "The minister has recognised that hill tracks are an important aspect of rural development and landowners - many of whom are committed conservationists - understand that a balance has to be struck to help meet the needs of rural businesses while protecting the environment and natural heritage.
"We acknowledge there have been concerns about the impact of some tracks and, while we understand the minister's reasons for seeking to introduce a system of prior notification for private roads and ways across Scotland, we feel the Scottish government have been too quick to revisit this issue."