Aviemore to host UK mountain rescue conference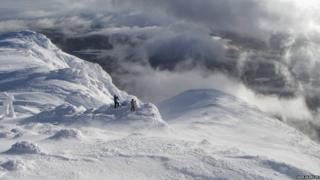 Aviemore in the Cairngorms will host the UK and Ireland Mountain Rescue Conference next month.
The event is held every two years and brings together civilian, police and military team members.
Guest speakers at the conference on 12-14 September will include climbers Andy Kirkpatrick and Dave Macleod.
Workshops will also be held at locations in the Cairngorms National Park. About 300 delegates and 60 staff are expected to attend.
The conference follows an unusual winter in the Scottish hills.
About 350 avalanches - one of the highest totals in recent years - were recorded by the Sportscotland Avalanche Information Service.
The higher rate was largely due to continual stormy weather periods with significant snowfall above 600m (1,968ft) interspersed with sharp temperature rises
Despite the numbers there were no avalanche-related fatalities, whereas avalanches caused the deaths of eight people during the 2012-13 season - the highest figure in years.