Record passenger levels at Hial's regional airports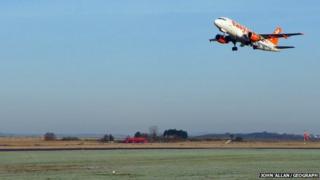 Passenger numbers at regional airport operator Hial reached a new record level in the latest financial year, the company has reported.
Hial, which runs 11 airports, handled 1,367,342 passengers during 2013-14.
Sumburgh in Shetland was the fastest growing airport in the group with numbers up by 32.2% as a result of energy sector traffic.
Wick John O'Groats also benefited from the same industry and its numbers grew by 21.7%.
Inverness had its busiest year for five years as passenger numbers grew to 619,000.
Hial said the rise was due to increased demand for the airport's domestic and international network, including a new winter service to Geneva.
The company also operates airports on the Western Isles, in Argyll and Dundee.
Capital investment increased substantially during the period, up from £8m in 2012-13 to £17m in the latest financial year, the company said.
To help fund the extra investment, it drew on its cash reserves which resulted in an increased operating loss from £769,000 to £3.78m.
Public subsidies to Hial, which is owned by the Scottish government, fell from £22,189,000 in 2012/13 to £21,847,000 in 2013-14.
Managing director Inglis Lyon said that it had been a successful year because of record levels of passengers and investment.
He added: "But there were challenges too, not least as some of our airline partners sought to rationalise their business in the face of rising costs, the future of access to the south east remained up in the air, and the impact of Air Passenger Duty continued to be felt across the industry."