Concerns raised about Inverness Sheriff Court's case targets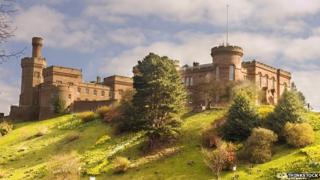 Inverness Sheriff Court has struggled to meet a target for cases going from caution or charge to verdict within 26 weeks, according to the Conservatives.
Research by the party suggested that in June the target was missed in almost 40% of cases.
MSP Mary Scanlon said she was concerned the situation would get worse if the closure of Dingwall Sheriff Court goes ahead as planned in January.
The Scottish Court Service (SCS) said July's figures had improved on June's.
It said 72.7% of sheriff court cases and 92% of justice of the peace cases met the target .
The Scottish Conservatives said in June 60.2% of cases went from caution or charge to verdict within 26 weeks, down from 65% in May.
The party also said the court had fewer summary cases to deal with in June - 98 compared with 137 in May.
Ms Scanlon said: "With Dingwall Sheriff Court scheduled to close, the problem of delays to justice could yet grow ever more problematic.
"The real concern is for the families, relatives and victims of crimes who want justice to be handed out quickly and efficiently, which helps them move on from the often traumatic experiences they may have had."
'No reduction'
Last year, plans to close 10 sheriff courts around the country in a bid to save money were approved by the Scottish government.
The changes, proposed by the SCS and introduced in November, also marked out seven justice of the peace courts for closure, with business transferred elsewhere.
In addition, the plans involve a reduction in the number of courts hearing sheriff and jury cases across Scotland.
The changes are to be completed by January next year.
Following the latest criticism on the proposals, SCS said: "As we have made very clear, the court closures across Scotland will result in a re-distribution of only 5% of the overall business to courts with sufficient capacity with no reduction in judicial or court staff."
On the meeting of targets at Inverness, the service said: "The percentage of cases going from caution and charge to verdict within 26 weeks at Inverness Sheriff Court and Justice of the Peace Court as of July 2014 has improved and now sits at 72.7%, and 92% respectively."