Radioactive waste ship Parida loses power in Moray Firth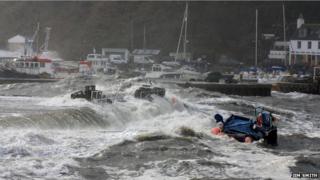 A ship carrying radioactive material has been reported to be drifting in the Moray Firth after losing power.
The Parida was taking a cargo of radioactive concrete waste from Scrabster to Antwerp when a fire broke out in one of her two funnels.
The blaze has been extinguished and there is believed to be no danger to her crew.
Aberdeen coastguard said the ship's crew plan to try to secure her by her anchors to stop her drifting.
They will then decide whether to attempt to restart the engine or call in a tug.
The 101m long Parida is currently about 20 nautical miles south east of Wick.
The coastguard were alerted at about 20:00 on Tuesday.
At 22:00, it was reported that an emergency tug had been dispatched to assist. It was expected to take about five hours to arrive on the scene.