Nuclear waste ship adrift in Moray Firth 'is on the move'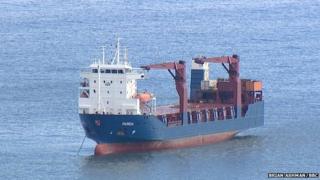 A cargo ship carrying nuclear waste which sparked an emergency rescue mission earlier this week has resumed its journey.
The MV Parida suffered an engine fire on Tuesday evening, leaving it adrift in high seas in the Moray Firth.
The vessel was eventually towed to safety and had been undergoing repairs in Invergordon.
It has now transporting its cargo to Antwerp in Belgium.
The Beatrice oil platform had to be evacuated after the blaze broke out on the ship.
Dounreay Site Restoration Limited have confirmed the waste was from the Dounreay nuclear power plant which is being decommissioned.