Western Isles Hospital answers calls for birthing pool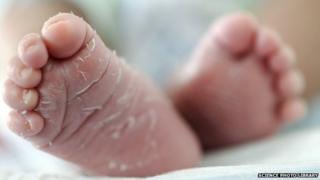 A birthing pool will be a feature of a modernised maternity unit at the biggest hospital in the Western Isles.
Last year, a possible location for the pool had to be ruled out because it was on a floor above Western Isles Hospital's main electrical system.
Staff were concerned a leak could lead to the hospital in Stornoway being put out of action for three weeks.
At the time there was an online campaign calling on the health board to provide the facility for mothers-to-be.
Birthing pools can be used for water births and also as a relief from labour pains before a baby is delivered in a hospital bed.
NHS Western Isles said it was pleased to announce that a pool would form part of a new birthing suite at the hospital.
'Warmly welcomed'
Constructing the suite has started and is expected to last five months.
NHS Western Isles nurse director Sandy Brown said: "I am absolutely delighted to be able to confirm that the option of using a birthing pool will be available to women in Western Isles Hospital from early next year.
"There is no doubt that this has been a long-awaited development and one which I'm sure will be warmly welcomed."
He added: "We now have clear plans in place and the birthing pool will, importantly, be part of a wider purpose-built modern birthing suite, so that the installation of the pool is not a development in isolation."
Western Isles Maternity Services Liaison Committee chairwoman Ruth MacAlpine said the announcement would be welcomed by expectant mothers.
She said: "This will bring practice in the Western Isles in line with other maternity units across Scotland where the option of a water birth is already available."