Highland Council proposes closing schools to save money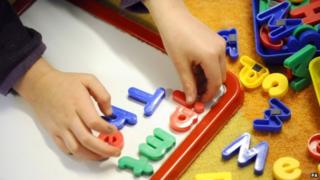 Closing schools, cutting teaching posts and shortening pupils' days in class have been suggested as ways a local authority could save £15m.
Highland Council has started public consultation on how it could achieve savings while modernising its services.
It has also suggested reducing how often some of its buildings are cleaned and giving less funding to arms length body Highlife Highland.
Tourists could be asked for a small charge for council services they use.
In the consultation document, the local authority said visitors staying in hotels, guest houses and B and Bs could be asked for a contribution towards roads maintenance and waste services.
A large part of the survey, which closes on 14 November, concerns education.
Highland Council said merging some of its 211 primary and secondary schools could save up to £850,000.
It has proposed a 1% reduction of its secondary school staff could achieve savings of about £600,000. The saving would involve 15 full time employees.
One of the biggest savings - up to £3,2m - could be reached by shortening the time pupils in primaries 4, 5, 6 and 7 spend in class by 30 minutes per day.
In the consultation document, the council said: "In many countries the pupil day is shorter than in Scotland and pupils in these countries perform either broadly the same or better in international comparisons on pupil performance."
'Difficult decisions'
Views have also been sought on using new technologies to link older secondary school pupils living in remote areas with teachers in large high schools, changing the frequency of bin collections and a cut in funding to Eden Court in Inverness.
Highland Council is trying to save £64m over the next five years.
Budget leader Maxine Smith said: "These are very difficult times for public services and we are not alone in facing very difficult decisions along with other councils across Scotland.
"The scale of the savings required means that we must now look at changing the way we provide some services and reducing others.
"This will mean a reduction in the number of staff we employ and the number of buildings we use, and will impact on the services we provide."