Japanese conservationists turn to Skye otter charity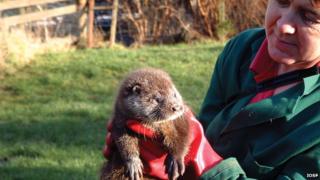 Conservationists in Japan have sought help from a Scottish wildlife charity to plan a potential reintroduction of otters.
The mammal was declared extinct on the Japanese islands by its Ministry of the Environment in August 2012.
The Skye-based International Otter Survival Fund (IOSF) has been asked to assist with a feasibility study.
Japanese conservationists have suggested reintroducing otters to Hokkaido, an island in north Japan.
Grace and Paul Yoxon, of the ISOF and authors of a new book on world otter species, attended the reintroduction project's first workshop earlier this month.
The event was held at the Shiretoko National Park, a Unesco World Heritage Site.
The Japanese otter was believed to be either a subspecies of the Eurasian otter or possibly even a separate species.
IOSF supports conservation projects across the world.
It also rescues and raises orphaned otter cubs.
Earlier this month, IOSF started a project to investigate the lifespan of otters in Scotland.
It said research suggested animals in England and Wales died younger than in other parts of Europe.
Mrs Yoxon said water pollution was a factor behind the shorter lifespan.
She added that information was lacking on what age otters in Scotland were living to.