Rock fall-hit Stromeferry bypass to be partially reopened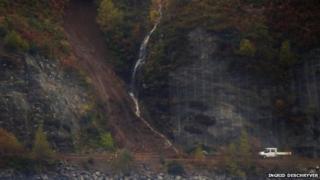 The A890 Stromeferry bypass in Wester Ross is to be partially reopened on Thursday after several rock falls closed the route on Tuesday.
The road was among several routes across Scotland badly affected by heavy rain earlier this week.
The bypass plays a part in taking traffic around Loch Carron and its closure means motorists have to make a detour of 133 miles (214km).
The bypass will be opened from 07:00 until 19:00.
Highland Council said the restriction, and the diversion, would remain in place until further notice.
The local authority said another landslip at Garve continued to disrupt rail services on the Inverness to Kyle of Lochalsh line.
The Stromeferry bypass has been hit by landslides in the past.
One landslip closed the route for four months - from 22 December 2011 to 23 April 2012 - and cost Highland Council £2.8m to deal with.
A small car ferry, the MV Glenachulish which crosses between the mainland and Skye, was hired to help local motorists avoid having to make the long detour.
School pupils used train services and a hired pleasure boat to get to school.
Large rubber mats were later laid on a railway next to the bypass to allow road traffic to travel a short distance along the line,
Highland Council has been assessing several options for dealing with landslides at the bypass.
Potential solutions published in June 2012 included a £60m bridge, 1.2 mile (2km) tunnel costing £94m and a new, longer bypass running to about £23m.
Other options included stabilising the rock face next to the bypass at £69m.
Also, a £109m project involving cutting rock from the hillside and widening the road and extending an existing avalanche shelter on the road at a cost of up to £104m.