Whisky producer Diageo puts investment plans on ice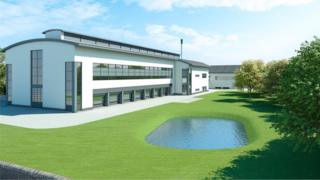 The biggest firm in Scotch whisky production, Diageo, has put its investment plans on ice due to weakened demand around the world.
The company has been investing heavily for seven years as exports have soared.
But with slowing growth in key markets, including China and South America, it is reviewing its plans.
Several projects are to be delayed, including the £50m "super distillery" planned for a site near Alness.
A greenfield site next to the existing Teaninich distillery was chosen for the distillery last year.
With 16 copper stills, it would have the capacity to distil enough for 13 million litres of spirit each year, equating to 45 million bottles.
It was proposed to create about 20 jobs to run the plant.
The site near Alness, which would have had its own name and identity, would have been the second major malt distillery built in more than 30 years.
'Right balance'
It would have followed Roseisle in Moray, which began production in 2009, and which has a capacity for 10 million litres of spirit each year.
A company spokesperson said: "Diageo's investment in expanding our Scotch whisky production business in Scotland began in 2007 and reflects the long-term potential we continue to see in the Scotch whisky category around the world.
"Since then we have successfully completed major expansions across a number of our distilleries, packaging sites, maturation warehousing and support operations."
The spokesperson added: "Our long-term investments are naturally planned in phases to give us the ability to adjust to fluctuations in demand and to ensure the right balance between supply and demand.
"The weaker global economic environment has impacted the growth of Scotch in certain markets and therefore Diageo will continue to review and adjust the timing of the next phase of our investment programme to manage our Scotch whisky inventory and to retain the alignment between growth in production volumes and growth in demand."