NHS Highland's management criticised for keeping members in the dark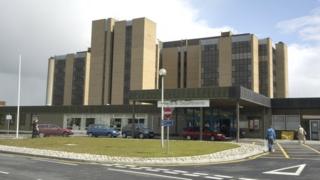 Senior management at NHS Highland have been accused of treating health board members "like mushrooms by keeping them in the dark" on some financial matters.
The criticism from MSP Hugh Henry came during a meeting of Holyrood's public audit committee on Wednesday.
He attacked the way management held some of its discussions on arrangements for a £2.5m Scottish government loan. MSP Mary Scanlon was also critical.
NHS Highland's chairman Garry Coutts said the criticism was "disappointing".
He said staff and the senior management team were "always open and accessible" to board members.
NHS Highland is facing a deficit of more than £12m to the end of the financial year. It has said it expects to break even.
The £2.5m loan was secured to balance its books last year.
Mr Henry criticised the way senior management had handled some of the discussions on the loan.
He said talks were held informally, which meant there was not a record of them available for public scrutiny.
The public audit committee convenor said: "These senior officers are actually treating the board like mushrooms - they are best kept in the dark."
'Open and accessible'
NHS Highland's chief executive Elaine Mead and finance director Nick Kenton are to be called to explain to the committee the state of the health board's finances.
In a statement, Mr Coutts said: "I have been disappointed at some of the criticisms levelled at us and wish to outline exactly what happened with regard to brokerage."
He said the funding from the Scottish government was agreed on 6 March this year and was public information on 25 March. There were media reports on the agreement on 26 March.
Mr Coutts said: "Our staff and senior management team are always open and accessible to board members, local and national politicians, members of the public and the media.
"We have regular meetings with MSPs throughout the year, at which we answer any questions they may have. We welcome the opportunity to speak to the Scottish Parliament's public audit committee and to offer further reassurance."
Last month, Scotland's financial watchdog flagged up concerns about the accounts of NHS Highland.
In a report laid before the Scottish Parliament, Audit Scotland highlighted weaknesses in the financial management of the health board during 2013/14.
These weaknesses were a major factor in the board requiring brokerage of £2.5m from the Scottish government to break even.
This was mainly due to overspend and weaknesses in financial management at Raigmore Hospital in Inverness. Other factors were increased spending on agency and locum staff, and meeting national waiting time targets.