St Kilda to Skye rowers raise £40,000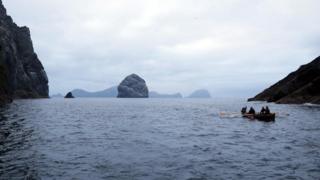 Eight adventurers have raised £40,000 after rowing 100 miles (161km) from St Kilda to Portree on Skye.
The crew of novice rowers completed their feat in June in an open wooden skiff built more than 100 years ago.
The final total of funds has just been totted up and is more than double what the eight rowers and their support team had hoped to raise.
The row lasted about 31 hours across the Atlantic, through the Sound of Harris and across the Minch.
RNLI and Skye and Lochalsh Young Carers will benefit from the sponsor money.