New leaflet gives walkers and climbers avalanche advice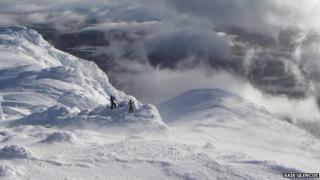 A new leaflet has been made to raise awareness of avalanche risks in Scotland's hills.
Sportscotland Avalanche Information Service (SAIS) and Mountaineering Council of Scotland (MCofS) are among groups that collaborated on it.
Called Be Avalanche Aware, it urges walkers and climbers to carefully consider their ability to cope with winter conditions.
It warns that 90% of avalanche victims trigger their own snow slide.
SAIS, which has made the leaflet available on its website, provides avalanche forecasts from December until April.
The forecasts cover six areas - Creag Meagaidh, Glencoe, Lochaber, Northern Cairngorms, Southern Cairngorms and Torridon.
'Fundamental considerations'
Its most recent season involved more than 350 avalanches but no fatalities, whereas avalanches caused the deaths of eight people during the 2012-13 season - the highest figure in years.
Last winter saw record levels of snow fall over upland areas of Scotland.
Heather Morning, mountain safety advisor with Perth-based MCofS, said: "The Be Avalanche Aware leaflet is an invaluable source of knowledge for anyone who enjoys the Scottish winter mountains, whether they are Munro baggers, climbers or off-piste skiers.
"A few minutes studying the vital information in this leaflet could literally save your life."
Mark Diggins, coordinator of SAIS, said: "The leaflet outlines the decision-making process and the important, fundamental considerations that are so important to know when venturing into the winter mountains."