Study suggests Gaelic worth up to £148.5m a year to economy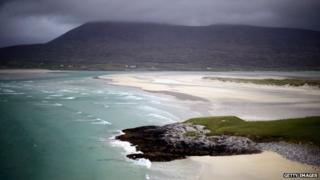 The use of Gaelic by businesses and organisations has the potential to generate up to £148.5m a year for the economy, according to new research.
It suggests the use of the language in branding and advertising can make a business more attractive to customers.
The project was led by Highlands and Islands Enterprise (HIE).
Firms in the Hebrides, Highlands, Glasgow, Edinburgh and Argyll and Bute have the greatest appreciation of Gaelic, the study said.
The research has been published in a new report Ar Storas Gaidhlig - Our Gaelic Resource in English.
It suggests Gaelic and English bilingual branding, advertising and signage add value to what businesses and organisations offer.
The researchers said Gaelic could enhance the distinctiveness of products and services and customers' perceptions of their "authenticity and provenance".
They also said use of the language "increases the appeal" of products and services to target markets.
Researchers calculated that the potential economic value of Gaelic as an asset to the wider Scottish economy could be from £81.6m to £148.5m a year.
According to the 2011 census, there are 57,375 Gaelic speakers in Scotland and 87,000 people who claim to have some knowledge of the language.
Scotland's two largest cities and surrounding areas have also experienced an influx of Gaelic speakers.
There are an estimated 10,000 in and around Glasgow and almost 6,000 in and around Edinburgh.
Rachael McCormack, director of strengthening communities with HIE, said the economic potential of Gaelic was now clearer.
She said: "When we talk about Gaelic, the emphasis is often on the need for public support to ensure the language can survive and grow.
"Until now, much less has been said about its important role as a valuable economic and community asset, which has great potential to make a positive and measurable contribution to Scotland.
"Our new study demonstrates that Gaelic not only plays a unique role in Scottish culture, but can be viewed and used as an asset in a range of fields, particularly the sectors of creative industries, food and drink, education and learning, heritage and tourism."
'Encouraging findings'
Minister for Gaelic Alasdair Allan added: "Gaelic is part of our identity and culture and is used every day in communities across Scotland.
"This report highlights for the first time, ways in which businesses and other organisations are capitalising on the language to generate economic value.
"These are encouraging findings and I hope to see many more organisations benefit in the future by adopting similar approaches and building on this success."
HIE collaborated with Bord na Gaidhlig, Scottish Natural Heritage, Creative Scotland, Highland Council, Argyll and Bute Council, and Comhairle nan Eilean Siar to commission the study.