Image shows 'prehistoric basket' found on North Uist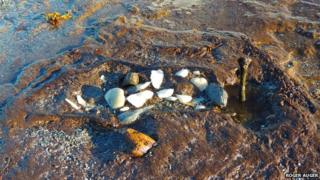 An image has been released of what archaeologists believe to be the remains of a prehistoric basket uncovered by the tide on North Uist.
The artefact was found in an area of shoreline where the sea has been eroding the land in the Western Isles.
Comhairle nan Eilean Siar has been working with the local community and Historic Scotland to excavate it.
Many well preserved ancient artefacts have been discovered at other sites on North Uist in the past.
From the Bronze Age, finds have included a skeleton and from the Iron Age evidence of metal work.
Also, from the Iron Age are the remains of homes dubbed Jelly Baby houses because the shape of them looked like the sweets.