Operators of Mallaig swimming pool welcome funding promise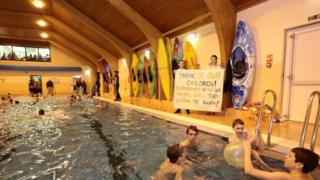 The operators of Mallaig and District Swimming Pool have given a cautious welcome to Highland Council's intention to continue lifeline funding.
The pool is owned by the council and leased to a social enterprise group.
There were concerns that £85,000 of annual funding from the local authority would be affected by cost cutting.
Highland Council's budget leader Maxine Smith has said arguments to continue the funding for Mallaig and a pool at Bettyhill "had been persuasive".
Mallaig and District Swimming Pool's operators are now seeking assurances that the funding will continue for at least another three years.
A campaign was started earlier this month that called on Highland Council to maintain its support for the Mallaig pool.