Wick's wearable technology contest 'a Scottish first'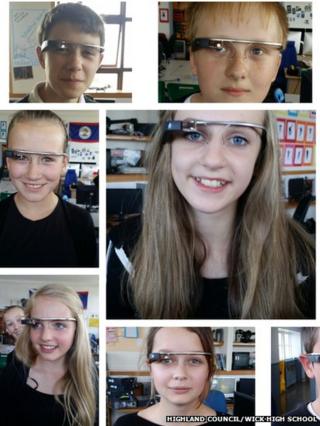 Wick High School has held what is thought to be the first wearable technology competition of its kind in Scottish education.
Working in teams of two or three, S2 pupils were challenged to design an app for use with Google Glass eyewear or Samsung Gear 2 and Pebble smartwatches.
Kate Jolly and Holly Cunningham won the contest with their app Imagine Glass.
Using Google Glass, users solve clues in their local area to find virtual boxes and earn points.
Isla Miller and Kerry Plowman's Nurses Aid application was runner up.
The app allows medical staff to access patient records using Google Glass, reducing the risk of infections being spread through the handling of paper copies.
A smartwatch app called Identifier was designed to give police instant access to criminal records.
Another idea that earned praise was Toddler's First Stages, which could be used by parents to capture moments in their child's early years.
Event judges were Highland Council information and communications technology managers Ken Fox and Andy Robb and Abby Wilson of Fujitsu.
This is the second year that Wick High has run the wearables design competition.
However, this year it was scaled up and the pupils were offered the chance to use the hi-tech eyewear and watches.
Wick High teacher Chris Aitken said: "Last year we tried running a cut down of the competition and just focused on Google Glass.
"This year, with our students actually being able to experience the technologies that they would be designing for, we really saw a profound understanding of how these technologies worked and that translated in to some really innovative and interesting apps."