Oscar winner tells of building Star Wars lightsabers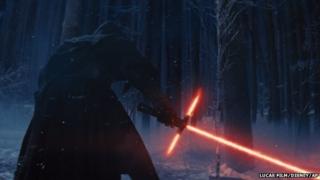 Roger Christian won an Oscar for his set decoration on the original Star Wars film A New Hope.
He made Black Angel, a short film shown in cinemas before 1980s sequel The Empire Strikes Back, using Eilean Donan Castle in Kyle of Lochalsh and Loch Eck in Argyll as locations.
Christian also worked on other episodes in the Star Wars franchise - Return of the Jedi and The Phantom Menace.
Here he tells of making lightsabers for A New Hope from bits of scrap and gives his thoughts on the new laser sword glimpsed in the teaser trailer for 2015's J J Abrams-directed Star Wars: The Force Awakens.
Christian has fond memories of working on the original film in the Star Wars franchise.
Its low budget required the crew to innovate when it came to making props and the set at Elstree Studios in England and on location.
Scrap metal from aircraft was used in the set designs. Lightsabers, the weapon of choice of the movies' Jedi knights and villainous Sith lords, were also made from whatever Christian could lay his hands on.
The lost film
Black Angel was shown in cinemas in the UK, Scandinavia, Japan and Australia as part of screenings of the 1980 Star Wars feature The Empire Strikes Back.
Written and directed by Roger Christian, it is an Arthurian tale of a knight who rescues a princess while he is returning home from the Crusades.
It was shot in Scotland on a shoestring budget. The funding for it included a £25,000 grant from the UK government.
Christian and his crew of 10 headed into the Scottish hills in a Volkswagen campervan, a horse trailer and a small van.
The locations included Eilean Donan Castle, Bernera Barracks in Glenelg, Loch Eck in Argyll and a swimming pool in Dunoon.
After 1980, the negatives of Black Angel disappeared and were thought to have been lost forever before they were discovered in an archive.
Earlier this year, the short was shown at special screenings in Inverness, Dundee, Glasgow and Edinburgh.
He said: "George (Lucas, the Star Wars creator and director) needed a lightsaber to hang on Luke Skywalker's belt for the scenes filmed on location in Tunisia, after Obi Wan Kenobi had presented Luke with his father's lightsaber.
"To get a real and used look to everything I was making all the set dressings, weapons and props from found objects and adapting them.
"I knew the laser sword, as it was first known, would be the iconic image of Star Wars. It was as important as Excalibur in the legend of King Arthur.
"I searched and searched for something suitable to adapt and, as time was running out before the first day of shooting, I found a dusty box of old Graflex handles in a photographer's shop in London and I knew I had hit the Holy Grail."
The handles were for the flash attached to Graflex cameras, a type favoured by Press photographers.
Christian said: "What I held in my hand was exactly as I imagined a laser sword would be - weighty, chromed body with a red button and a strangely shaped clip at the end that held the chrome reflector that looked like a function that could generate a laser beam."
Back at his office in Elstree Studios, he started building the weapon by cannibalising parts from other items such as a pocket calculator.
Christian showed his friend George Lucas the finished prop.
"George simply smiled and held it like a laser sword should be held," said Christian.
"That was George's approval process, and the added smile was a 'yes you found it'. He asked me to fit a clip at the end so he could hang it on Luke's belt."
For some scenes, a rotating wood dowel painted with front projection paint to catch some light and glow was used for the blade.
The effect was enhanced by rotoscoping, an animation technique that involves animators tracing over footage frame by frame.
Christian said: "I constructed two original laser sword handles used throughout the film and a third one to use as a spare. I had my prop maker make more for rehearsals, stunts and background ones.
"After that we adapted the design using other found objects to make Obi Wan Kenobi's and Darth Vader's."
One of the original two lightsabers that Christian had made from bits and bobs for £10 was bought by the Seattle Music Museum for $250,000, about £160,000, two years ago.
The Dark Side...and the lightsaber
The laser sword is one of the most recognisable objects of the Star Wars franchise.
It is the weapon of choice of knights of the Jedi Order and their arch enemies, the Sith.
Sith assassin Darth Maul wields a double bladed lightsaber in The Phantom Menace, while Samuel L. Jackson's Jedi knight Mace Windu was given a purple laser sword.
The maker of the original lightsaber has taken a keen interest in the latest version, seen briefly in the newly released teaser.
Christian said: "Looking at the lightsaber in the trailer it has to be a found, older one as the blade is rougher, it's flame-like, so not as smooth as the newer blades.
"The snowy environment would hint that someone has found an ancient saber so I surmised this is an older laser sword.
"For sure there is a lot of debate going to be blogged now about the little blade protection side flames. They look cool, but aren't practical, and that was the original Star Wars mantra, everything had to look used and real. George wanted it that nothing ever stood out as designed, just a used universe that was real.
"So there has to be a reason coming for this laser sword. J J Abrams would have considered every visual in this first teaser."