The end of the road for Coulags' caravan polling place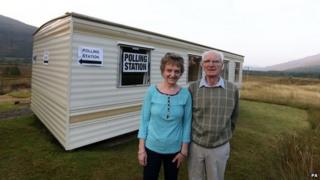 A converted caravan that has served as a polling place for about 50 people in Wester Ross will no longer be used, councillors have decided.
Father and daughter George and Anne Mackay's converted static caravan has been used in council, Scottish and UK parliamentary elections.
The polling place at Coulags near Balnacra was used for September's Scottish independence referendum.
Highland councillors have agreed that it should not be used in the future.
The members of the community safety, public engagement and equalities committee said it did not meet any access requirements.
Voters will now use a hall in Lochcarron.