Insurance costs could shut Inverness' Old High Church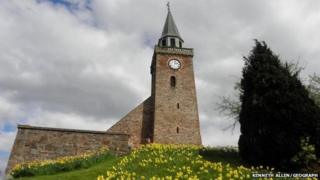 A historic Inverness church built on a site where St Columba is said to have converted a Pictish king to Christianity is at risk of closing.
The Old High Church was built in the 1770s using parts of a medieval kirk thought to date back to the 15th or 16th centuries.
Its congregation have to raise £10,500 a year to cover the cost of insuring it and a church nearby that they also use.
The worshippers have been struggling to meet the cost.
The Old High Church, a category A listed building on a bank of the River Ness, could have to close to save the congregation and their kirk session money.
Old High St Stephen's minister, the Reverend Peter Nimmo, said: "The nationally-important Old High building is a hidden gem at the heart of our city.
"Although we have been very good at keeping building costs down, there has been a huge rise in insurance costs in recent years.
"Other similar congregations in the city pay around £4,000 per year in insurance, but we have an annual bill of £10,500.
"As charity trustees, the kirk session cannot see how that situation can continue."
The mound on which the church was constructed is believed to the site where Irish missionary St Columba converted King Brude in 565.
The saint is also wrapped in the mythology of the Loch Ness Monster. An account of the missionary's life thought to have been written in the 7th Century tells of him encountering a strange beast in the River Ness.
Old High Church has links with other events in Scotland's past.
Following the Battle of Culloden in 1746, Jacobites were said to have been executed in the graveyard of an early church on the site.