'Several' accidents as snow hits Scotland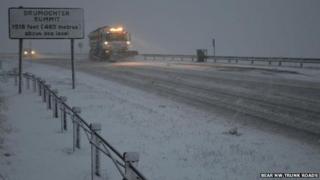 Emergency services are dealing with a string of road accidents on the A9 as snow, ice and strong winds affect parts of Scotland.
Police said there were "several" incidents on the Perth to Inverness road near the Drumochter Pass.
A statement said there were likely to be "significant delays" while clear-up work was ongoing.
A Met Office "be aware" warning runs until midday on Monday for parts of Scotland, England and Northern Ireland.
It has made for difficult driving conditions in parts of the country with motorists advised to avoid the Drumochter Pass area while emergency services deal with accidents,
The Met Office said showers would fall as snow and hail above (656ft) 200m and hail, sleet and snow at lower levels.
Accumulations of snow of up to 2in (5cm) had been forecast and potentially up to 4in (10cm) above 1,312ft (400m).
Scotland's ski centres, including CairnGorm Mountain near Aviemore and Nevis Range near Fort William, have already had some snow and are hoping for more to get the new season under way.
Last winter, Scotland's mountains were believed to have had the greatest snow fall in 69 years.
In Scotland, only parts of the north east along with the Western and Northern isles were expected to escape the worst of the weather.
An additional yellow early alert of severe gales has been issued for Wednesday for everywhere in Scotland except Shetland. It also covers Northern Ireland and many parts of northern England.
Forecasters said frequent wintry showers would present an additional hazard on Wednesday.