Surfers ride 'weather bomb' waves in Spain and Portugal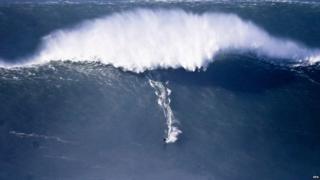 Some of the world's top surfers have been riding massive waves generated by the Atlantic storm that hit Scotland.
Many have headed for Praia do Norte in Nazare, Portugal, where Hawaiian surfer Garrett McNamara set a world record for the largest wave surfed in 2011.
The storm created huge swells in the sea off Scotland leading to warnings from the Coastguard and RNLI.
The swell off Nazare has been recorded at a maximum of height of 40ft (12m).
But South Devon-based website Magicseaweed.com, which provides surfers with swell charts and surf forecasts, said the swell grew in size as it neared the beach.
Three years ago, Mr McNamara caught a 78ft (23m) wave to beat the previous 2008 record by more than a foot.
The Atlantic storm hit Scotland late on Tuesday and during Wednesday. The Western Isles, Orkney and Shetland and parts of the north and west mainland coast were the worst affected.
Wave heights measured west of South Uist by the University of the Highlands and Islands peaked at about 49ft (15m) on Wednesday.
The storm started in the Arctic where it had rapidly developed in strength in a process known as explosive cyclogenesis, or what some scientists and forecasters refer to as a "weather bomb".
Pressure at the centre of the storm dropped quickly in the space of 24 hours as it passed by the south of Greenland on a strong jet stream running in excess of 230mph.
As well as Nazare, surfers have been in Bilbao, northern Spain, for a Punta Galea Big Wave World Tour surfing event. It has also benefitted from swells created by the storm.