Study suggests most seabirds avoid offshore wind farms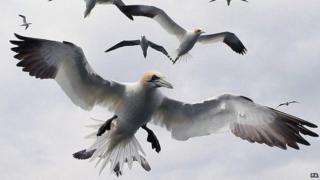 Most seabirds avoid offshore wind farm sites, new research has suggested.
The review found that over 99% of seabirds were likely to alter their flight paths in order to avoid collision with turbines.
The British Trust for Ornithology and the University of the Highlands and Islands' Environmental Research Institute in Thurso did the study.
However, the researchers said what affect the farms have on some vulnerable species remained unclear.
The research was carried out on behalf of Scottish government body Marine Scotland Science.
Gannets were among species that steered clear of offshore wind farms, the review found.
Foraging gulls appeared to be attracted to the sites, although they stayed away from turbine blades.
'Major uncertainties'
Aonghais Cook, research ecologist at BTO, said: "It is important not to get lulled into a false sense of security by these figures.
"Whilst 99% of birds may avoid turbines, collision may still be a significant risk at sites with large numbers of birds.
"Furthermore, there are still a number of key gaps in knowledge for some vulnerable species."
RSPB Scotland has welcomed the report but added that it still had concerns about birds colliding with turbines.
Aedan Smith, head of planning and development at RSPB Scotland, said: "Although there remain major uncertainties for some species, it provides good additional evidence that some seabirds will avoid wind turbines on most of their flights.
"However, the small proportion of flights that result in collision could still result in many thousands of birds being killed each year and could even significantly reduce the total populations of some species.
"It is therefore vital that individual developments avoid the most important places for seabirds. Impacts on seabirds must be reduced significantly if offshore wind is to realise its full potential of delivering much needed sustainable renewable energy."