Rare wildlife recorded in the Uists' saline lagoons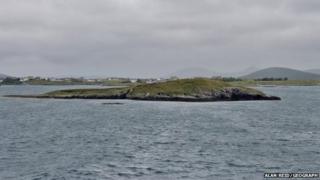 One of the least understood habitats in Scotland has been explored by ecologists and specialists from the National Museum of Scotland.
The condition of dozens of saline lagoons on the Uists in the Western Isles were tested in the study for Scottish Natural Heritage (SNH).
Small woodlouse-like creatures called isopods and rare forms of algae were also recorded.
The Western Isles have more than half of Scotland's 106 saline lagoons.
Obain Loch Euphort and Loch nam Madadh in the Uists are two of the 10 British lagoons with Special Area of Conservation status.
The rare algae found included foxtail stonewort.
In the UK, the species is described as "extremely threatened" and the Western Isles are regarded as the best stronghold for them outside of the Baltic Sea.
Foxtail stonewort used to be found in Orkney's Loch of Stenness, but disappeared possibly because the construction of the Churchill Barriers during World War Two changed the salinity of the loch.
Samples of the organisms found in the Uist lagoons have been placed in the permanent collections of the National Museum of Scotland and Royal Botanic Gardens Edinburgh.