Walkers rescued in 'atrocious weather' near Ben Macdui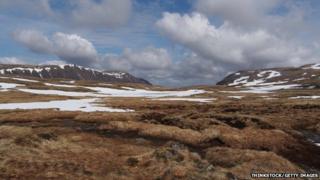 Two hillwalkers who got into difficulty on the Cairngorm Plateau in "atrocious" weather conditions on Wednesday have been found safe.
They were found close to the north summit of Britain's second highest peak, Ben Macdui, by members of Cairngorm Mountain Rescue Team.
The walkers were taken to a lower level on the mountain to be met by a Royal Navy search and rescue helicopter.
The operation was done in winds gusting to 100mph, blizzards and lightning.
Cairngorm MRT, who were alerted just before 17:00, described the air crew's flying in the "atrocious" conditions as "amazing".
The two men were able to text the mountain rescue team the grid reference they were at. The pair also erected a tent they had to give themselves some protection against the elements.
Rescue team leader Willie Anderson said forecasts for worse weather on Thursday meant it was crucial the hillwalkers were found quickly.
He said: "We were really concerned for these folk as the chances of survival on a night like this were very slim."
The two walkers got into difficulty after torrential rain soaked their clothing and equipment.
Mr Anderson said: "The weather had completely overwhelmed them. It completely soaked and trashed their gear.
"We don't like to criticise people unnecessarily, but I was surprised to find anyone up there given the weather conditions."
The walkers were found at about 22:00 and airlifted by a Royal helicopter and crew stationed at HMS Gannet at Prestwick in Ayrshire at about 23:20.