Dog pictured in sinkhole is ok, says Traigh Golf Club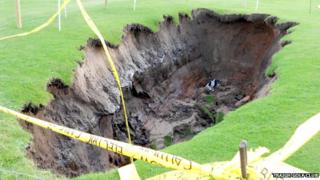 A golf club has received concerned questions from pet owners about the fate of a dog photographed in a sinkhole that appeared on its course.
The 9ft (3m) deep, 22ft (7m) long hole was caused by heavy rain washing away a drain running under part of Traigh Golf Course, near Mallaig.
A photograph that appeared in the media showed a dog at the bottom of the hole.
A club spokesman said: "We keep being asked 'did the dog escape?'. The answer is yes, unscratched."
Traigh Golf Club had been worried about how it would pay for the repairs close to the seventh green of the nine-hole course.
It estimated £16,000 would be needed to cover the cost of the work, which included 200 tonnes of sand.
The owners of the course have now offered to pay for it.
Traigh, between Arisaig and Mallaig, is known as one of Scotland's most picturesque courses because of its views to Skye and the Small Isles.