Blue Monday: Mountain hare pictured in Cairngorms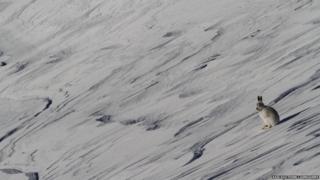 One of the UK's most elusive animals has been photographed sunning itself on a wind-sculpted snowy hillside in the Cairngorms.
Mountain hares change colour from brown to white to better camouflage themselves against winter snow.
Also known as blue hares, they are found in the Scottish Highlands, parts of Derbyshire and throughout Ireland.
The hare in the Southern Cairngorms was photographed by Sportscotland Avalanche Information Service on Monday.
Foxes, stoats and raptors prey on young mountain hares.
Conservationists have also been concerned about the impact of climate change on the species.