Hammer time: Revisiting the last outing of RockNess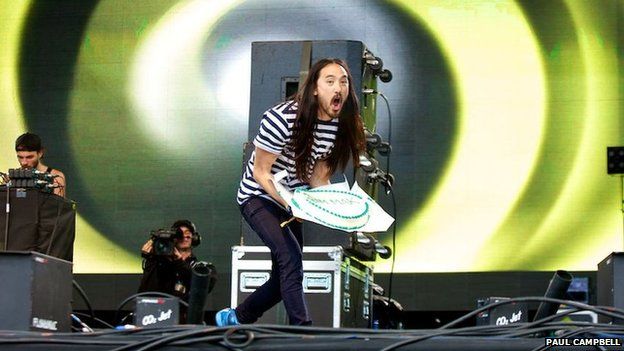 RockNess has been cancelled for the second year running.
BBC News Scotland online's Steven McKenzie was at the last festival to be held in 2013.
My first experience of RockNess had not started well. My rubber hammer had gone missing.
It seemed that out of the thousands trying to pitch tents in the festival's campsite I was the only one who had brought the means to bashing tent pegs into the sun-baked ground.
After erecting my tent, I had lent it to my neighbours who had been struggling to make any headway with theirs. I watched with smug satisfaction as they delightedly banged home their plastic pegs.
But other revellers had taken note of the tool and I could only look on with a sinking heart as it was merrily passed around, before it disappeared in the swirling masses of tent builders.
My decision to bring a mallet was probably a sign of my age. I am well into the time now of worrying about paying a mortgage. I have a family car with child safety seats in it. The vast majority of my fellow revellers looked like they had not long grown out of one.
Before RockNess the last time I had been to a festival was in the last century - visits to T in the Park to see the Foo Fighters, Radiohead and Kylie Minogue duet with Nick Cave.
Back then I didn't remember to bring a hammer.
Gavin, a friend who had also gone to T in the Park all those years ago, was the reason I was at RockNess. He had decided to hold his stag do at the festival, and try and relive those heady days of the 1990s.
The stag party gathered outside Gavin's tent. We looked like a bunch of Dads trying to figure out what to do next after chaperoning the kids.
Before coming I'd had to search on the internet for information on some of the acts.
I had been told by a work colleague that Steve Aoki had something to do with cakes. A search quickly revealed he wasn't some singing Mary Berry, but a Japanese-American electro house musician who likes to custard pie his audience with home baking.
This has been one of the successes of RockNess - bringing international acts to the Scottish Highlands, not free cake.
Fatboy Slim headlined the first festival in 2006 and in the years that followed the acts included Daft Punk, Prodigy, Dizzy Rascal, Biffy Clyro and US band Flaming Lips.
As well as the music there was a comedy tent hosting acts such as Daniel Sloss and Dylan Moran.
Over the years, RockNess grew from a one day event with 20,000 revellers to a three-day extravaganza drawing crowds of up to 35,000 people.
The festival has had an economic impact too.
Local taxi firms have benefitted from ferrying people to and from the venue, and supermarkets in Inverness stocked RockNess "must haves" such as cheap tents and sleeping bags.
There was also an unseasonal summer blow out on plastic sledges, which revellers used for dragging boxes of alcohol from the car park to their tents, and Wellington boots.
But in recent years RockNess has been dogged by rumours of falling ticket sales and suggestions that each staging of it would be the last.
Organisers revealed during 2013's festival that warm and sunny weather caused a last minute "spike" in sales for the Saturday and Sunday.
Last year's festival did not go ahead because a date could not be found that did not clash with the World Cup and the Commonwealth Games.
There was a promise that would be back in 2015, but organisers have now confirmed that this year's plans have also been shelved.
My RockNess lasted a day and a night, before I decided I was too old for this malarkey and bailed out.
Probably the news from Joe, another of the stag party, that someone had peed next to our tents made up my mind that it was time to go.
I dismantled my tent and headed off. As I trudged through the camp site I swear I could hear the satisfying smack of a rubber mallet on the head of a stubborn tent peg.