Nursery abuse trial hears interview with three-year-old boy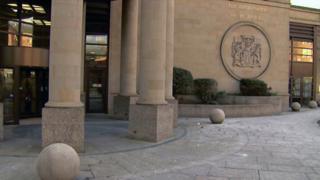 A three-year-old boy told police he had been sexually abused at an Inverness-shire nursery, a court has heard.
A taped interview with the child was shown to the jury in the trial of Mark Maclennan at the High Court in Glasgow.
The 30-year-old, from Bath, denies raping the boy and sexually abusing another boy and a girl at the nursery.
He also denies sexually assaulting a girl in Stirling, Dunblane and Dunfermline.
In the video recording played to the jury the three-year-old alleged rape victim was questioned by police officers about the incident and said: "Don't like Mark."
The jury was also shown a video of the boy giving evidence in an informal court setting more than a year later.
In this he said he could not remember having gone to the nursery.
Another tape of a police interview with a young girl - who attended the nursery when she was aged between four and five - was also played to the jury.
In it she indicated that Mr Maclennan had touched her inappropriately.
The court heard that PC Lyne Baptie, who conducted the interviews with the boy and girl, interviewed Mr Maclennan after speaking to each child.
He denied the allegation in relation to the boy and did not answer any questions put to him about the girl.
Mr Maclennan also faces charges of sexually abusing a girl between the age of 12 and 15 and having indecent photographs of children in his possession.
He denies all the charges against him.
The trial before judge John Morris QC continues.