Demonstration held in favour of Strathy South wind farm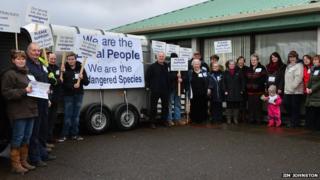 A demonstration has been held to show support for a controversial wind farm application.
More than 25 people turned out at Strathy Hall to back SSE's proposed 47-turbine Strathy South project.
They gathered outside a meeting held by a Scottish government-appointed official to explain the process of a public local inquiry on the scheme.
Last year, more 30 people held a protest in Inverness opposing the planning application.
Scottish Natural Heritage and RSPB Scotland have warned that the farm could impact on birds such as hen harrier.
The Scottish government is expected to make a decision on the application in April.
SSE, which is building a 33-turbine scheme at Strathy North, welcomed the show of support for the Strathy South project.