Glencoe massacre poem projected on to landscape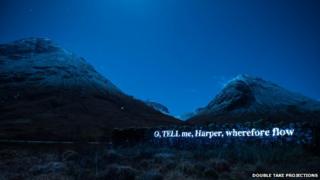 Lines from Sir Walter Scott's poem about the Massacre of Glencoe have been beamed on to hillsides and stone dykes in Glencoe.
The project by Edinburgh-based Double Take Projections was created to mark the 300th anniversary of the 1715 Jacobite uprising.
Thirty-eight members of the MacDonald clan were killed on 13 February 1692.
They were killed by a detachment of government soldiers led by Capt Robert Campbell of Glen Lyon.
The events played a part in mobilising popular support across the Highlands for the Jacobite cause in the years leading to the 1715 uprising.
Sir Walter was approached in 1811 by Edinburgh scholar George Thompson to write a poem to recall the massacre.
Lines from the work, On the Massacre of Glencoe, were projected on to the landscape, including Buachaille Etive Beag.