Planned Corran Ferry fares increases deferred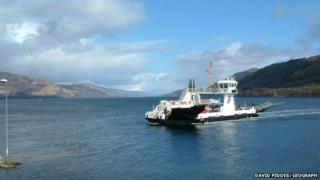 Highland councillors have deferred proposed fares increases on its Corran Ferry service in Lochaber.
They agreed the move to allow time for further work to look at the service's costs and also options for a fixed crossing on the Corran Narrows.
The local authority is also to seek legal advice on how its operation of the ferry fits with European rules.
The Free Corran Crossing (FCC) campaign has called for an independent audit on the running of the service.
Highland Council had suggested increasing fees by 4% per annum in each of the next three years.
If it had been approved it would have been the fourth increase in prices in three years.
Fares in April this year would have gone up by 30p per journey for cars and 8p per journey for those who buy a discounted book of tickets.
'Practical debate'
Pedal cycles and registered disable drivers get free travel.
Campaigners said there should be an audit on the operation of the service and a "realistic and practical debate" involving ferry users, Highland Council and Scottish government on the future of the crossing.
The Corran Ferry allows access to and from the communities of Ardgour, Morvern and Ardnamurchan via a narrow stretch of Loch Linnhe.
It is also used by people and businesses on Mull, who first travel to the mainland on the Fishnish-Lochaline ferry.
The Corran Ferry and Fishnish-Lochaline services also offer tourists an alternative to the Oban to Mull ferry.
The ferry is available at all times for the emergency services.