A96 Inverness-Nairn contract to be awarded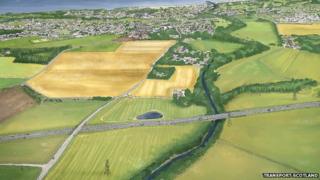 A £30m contract to design a 19 mile (30km) stretch of dual carriageway between Inverness and Nairn has been earmarked for Jacobs UK Ltd.
The contract has to go through a process before Transport Scotland formally awards it.
The work involves designing a bypass for Nairn.
The work to upgrade the section of A96 forms part of a wider project to build 88 miles (141km) of dual carriageway between Inverness and Aberdeen.
Improving the A96 from Inverness and Nairn - which also involves a new crossing over the River Nairn and two new railway crossings - could cost between £375m to £475m.
Cabinet Secretary for Infrastructure, Investment and Cities, Keith Brown, said the Scottish government was committed to improving the route.
He said: "Dualling the A96 requires careful, in-depth planning and design so that we deliver the right scheme and help tackle congestion, make journey times more reliable and, crucially, improve road safety.
"This £30m design contract for the 19-mile section between Inverness and Nairn which includes a bypass at Nairn, reinforces our determination to invest in this road and all of our city-to-city roads, to bring them up to full dual carriageway standard."