Peak practice: Lessons offered on hills' Gaelic names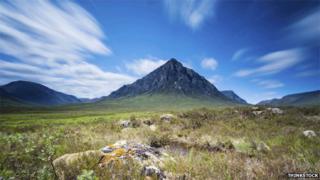 Climbers and hillwalkers unsure about how to pronounce Gaelic names of Scotland's hills and mountains are being offered lessons.
The Fort William Mountain Festival and Sabhal Mor Ostaig, the National Centre for Gaelic Language and Culture, have teamed up to offer the class.
Native Gaelic speaker and scholar Cailean Maclean will lead the two-hour session during the festival.
Gaelic is also used to identify other geographical landmarks.
The class will be held at West Highland College UHI in Fort William on 20 February.
Mountain with Gaelic names include Buachaille Etive Mor which, in its Gaelic spelling, means The Great Herdsman of Etive.
Glas Mhaol means the Green/Grey Rounded Hill, An Stuc the Pinacle and Beinn Dearg means The Red Mountain.