Scotland 'underrepresented' in national bat survey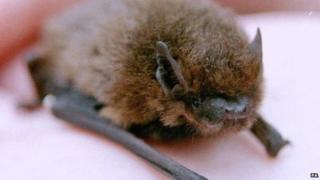 Scotland is underrepresented in a British survey of bat species, according to a report commissioned by Scottish Natural Heritage (SNH).
Since 1997 the National Bat Monitoring Programme has provided an "early warning" of population declines.
The study for SNH said southern Scotland was among the best surveyed areas of the country but there was less coverage of upland areas.
The report has recommended running workshops on bat detection.
The monitoring programme is a partnership between the Bat Conservation Trust (BCT), Joint Nature Conservation Committee, Defra and Natural Resources Wales.
It seeks to identify trends in UK bat species.
Surveys are carried out by volunteers who count bats in summer using small electronic detectors. They also check for winter roosts.
The report said for some parts of Scotland it was difficult to determine any trends that showed either rises or falls in bat numbers.
'Favourable picture'
The results of the most recent national survey suggested populations of 10 British bat species were stable, or increasing, following previous years of decline.
The species included Daubenton's and Brandt's.
The citizen science project involving more than 3,500 volunteers collected data from 3,272 sites across Britain from 1997 to 2012.
In the report, BCT said the results revealed a "generally favourable picture" and "signs of recovery" for bats over the monitoring period.
The study did, however, generate different trends for Natterer's, serotine and pipistrelles.