Tablets 'for every Highland pupil'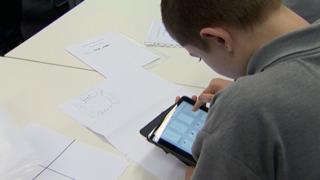 A council could give every school child in its area access to a tablet computer to help their education.
The aspiration was discussed at a meeting of Highland Council's education, children and adult services committee.
Councillors heard that the use of tablets at Alness Academy has led to pupils producing better work.
But the meeting was also told that giving every Highland pupil a tablet would involve substantial costs.
Alasdair Christie, the committee's chairman, said the expense of buying the devices should be balanced with the benefits they could bring to education.
He said money could also be saved by not having to buy some books and certain reference material.
Mr Christie told BBC Alba: "It is about equipping the children for their future lives.
"Investing in them now at an early age will pay back dividends and benefits later on, both for them and their own children."
---
Back to the future school
Scotland's schools have been increasingly returning to a time of the near-paperless classroom.
In the past, children wrote on slates which could be wiped clean and reused.
Today, children work on small white boards and felt tip pens.
Like the slates, the boards can be wiped and used again and again, though many a parent grumbles at trying to remove stray pen marks from their child's school clothing.
In some classrooms there are even larger, wall-mounted white boards and lessons and games can be projected on to them.
But Highland Council shelling out for thousands of tablets could be a bitter pill to swallow for some parents.
The same committee meeting also discussed the challenges of dealing with overcrowded schools, such as Lochardil, Cradlehall and Inshes.
And the dust has not long settled on a recently shelved plan to cut 30 minutes from the school day for some primary pupils to save millions of pounds.
---
Highland schools have been making greater use of new technology in recent years.
Last year, Wick High School held what was thought to be the first wearable technology competition of its kind in Scottish education.
Working in teams of two or three, S2 pupils were challenged to design an app for use with Google Glass eyewear or Samsung Gear 2 and Pebble smartwatches.
Kate Jolly and Holly Cunningham won the contest with their app Imagine Glass.
Using Google Glass, users solve clues in their local area to find virtual boxes and earn points.
Isla Miller and Kerry Plowman's Nurses Aid application was runner up.
The app allows medical staff to access patient records using Google Glass, reducing the risk of infections being spread through the handling of paper copies.
A smartwatch app called Identifier was designed to give police instant access to criminal records.
Another idea that earned praise was Toddler's First Stages, which could be used by parents to capture moments in their child's early years.
This was the second year that Wick High had run the wearables design competition.
However, 2014's event was scaled up and the pupils were offered the chance to use the hi-tech eyewear and watches.