Nasa astronaut photographs aurora borealis over Scotland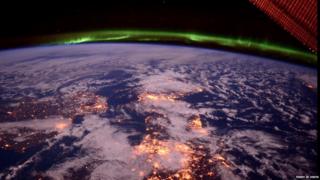 A Nasa astronaut has photographed the aurora borealis over Scotland from the International Space Station (ISS).
Baltimore-born Terry Virts, a member of Expedition 42 to the space station, captured the image of the Northern Lights earlier this week.
ISS orbits between 230-286 miles (370-460km) above the Earth's surface.
The aurora is caused by the interaction of the solar wind - a stream of charged particles escaping the Sun - and Earth's magnetic field and atmosphere.
From the ground in the Scotland, the Northern and Western isles, the Highlands and north east Scotland offer some of the best places to observe the Northern Lights.
Aberdeen's associations with the Aurora Borealis are celebrated in the local song, The Northern Lights of Old Aberdeen.
In the past, the city's tourist information staff have been asked when the "lights were turned on" by visitors unclear what causes the displays.
Col Virts is due to return to Earth in May.