Scottish government Air Discount Scheme renewed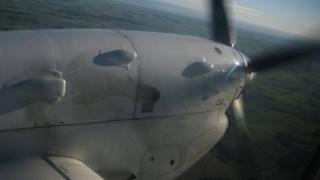 An initiative that offers discounted air fares for people living in island and remote communities in Scotland has been renewed for a further four years.
The Scottish government's Air Discount Scheme was due to expire on 31 March.
Transport Minister Derek Mackay has announced that it has been extended until 31 March 2019.
It offers a 40% discount on certain routes to people in Caithness and north west Sutherland, Colonsay, Islay, Jura, Northern and Western isles.
Mr Mackay said the government was doing everything it could to support island and remote communities.
He said: "The scheme has proved hugely popular with users, as it directly tackles the issue of high air fares in the Highlands and Islands.
"The significant discount offered by the scheme makes sure these communities remain connected.
"It's also open to students and, since 2012, the Scottish government has extended the Air Discount Scheme to travel undertaken by volunteers and employees of third sector organisations."
The eligible routes include those to Inverness, Aberdeen, Glasgow, Edinburgh and also Bergen in Norway.
Uptake of the scheme is highest on the Western Isles which has 21,594 members to it followed by Shetland with 18,318 and Orkney with 16,771.
The discount scheme has a total of 71,943 members.