Hial to upgrade Wick John O'Groats Airport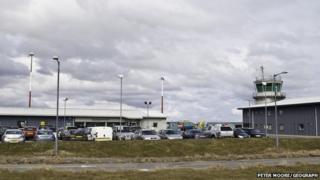 Wick John O'Groats Airport is set for a major upgrade later this year to improve safety and boost future growth.
The airport's operator Highlands and Islands Airports Limited (Hial) is to spend about £600,000 on revamping an area where aircraft are parked.
The area is also used for loading and unloading planes.
The airport recently took delivery of two new fire appliances, which cost a total of £700,000.
Last week, Hial said its regional airports enjoyed their busiest year ever in 2014.
A record 1.4 million passengers passed through Hial's 11 airports, almost 52,000 more than in 2013.
Inverness had its busiest year since 2008 after handling 628,526 passengers, and numbers at Sumburgh rose by 18.2% to 319,597 passengers.
However, there were falls in passenger numbers at Campbeltown and Dundee.