Fire alert at Dunvegan Castle on Skye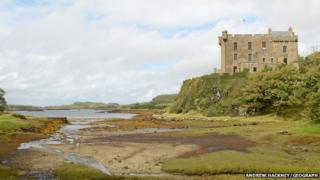 Firefighters were called to Dunvegan Castle on Skye after a member of the public reported seeing smoke coming from one of its rooms.
The Scottish Fire and Rescue Service said it was a false alarm and crews were stood down.
A faulty heating system was believed to have been the cause of the smoke seen by a passer-by.
The castle near the village of Dunvegan has been the MacLeod clan seat for more than 800 years.
It is the oldest continuously inhabited castle in Scotland.
Dunvegan Castle contains priceless works of art and relics, which include a piece of fabric known as the Fairy Flag.
According to legend, unfurling the banner - a gift from a fairy maiden - is said to have turned the tide of a battle in the clan's favour.
In reality, the fabric is believed to have been made in the Middle East and thought to have been a relic of the Crusades.