Video shows near miss between car and lorry at Tomich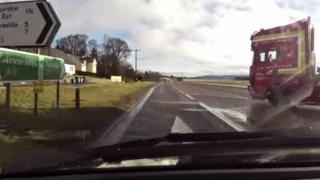 Footage has been uploaded to a video sharing site showing a near miss between a car and a lorry on the A9 in Easter Ross.
Called A9 Tomich close shave, the YouTube video is said to have been recorded by a dashboard-mounted camera inside a car on Monday.
It shows the car travelling north on the A9 and then a lorry pulling put out at Tomich junction near Invergordon.
The car's driver swerves to avoid the lorry and mounts the verge.
Slush slides from the car's roof across the windscreen.
A police spokesperson said: "Police have been made aware of video footage of a lorry on the A9 at the Tomich junction, near Invergordon."