Tree damages windscreen on Inverness-Edinburgh train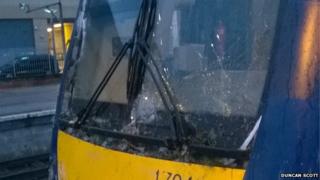 A train travelling from Inverness to Edinburgh was struck by a tree, damaging the engine's windscreen.
The driver and passengers were unhurt in the incident which happened at about 07:30 near the Slochd Summit south of Inverness.
The train, Scotrail's 06:50 service, returned to Inverness and the line was closed until about 08:40.
A speed restriction has been put in place on the stretch of railway involved.
The passengers were able to use their tickets to travel to Edinburgh on East Coast's 07:55 Inverness to Kings Cross service.
A spokeswoman for ScotRail said: "At around 07:30 this morning, ScotRail's 06:50 Inverness to Edinburgh service struck a tree on the line near Slochd.
"No passengers were injured, and the driver was unharmed but understandably shaken."