Warning of high avalanche risk on Scotland's mountains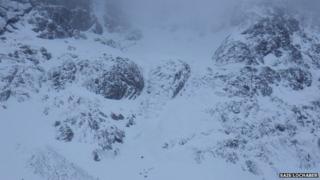 Walkers and climbers have been warned that the likelihood of avalanches in Scotland's mountains is high because of heavy snow and high winds.
The Sportscotland Avalanche Information Service (SAIS) said the hazard was "high" in Lochaber, Creag Meagaidh, Glencoe and Northern Cairngorms.
The hazard in the Southern Cairngorms was described as "considerable".
SAIS forecasters said people should be "very wary" of certain areas on Ben Nevis such as the Castle Gullies.
They also said there had been recent events where people had been caught in, but not seriously injured by, avalanches in Number 5 Gully.
Earlier this month, an avalanche of a scale big enough to bury a car was recorded as at Coire Ardair near Creag Meagaidh.
The snow slide was described as "a full depth size three event".
Avalanches are measured on an international scale of one to five. Size five slides are big enough to destroy a village or large forest.
SAIS said a size three slide at the location was uncommon.