Thieves steal from Hutchison Memorial Hut in Cairngorms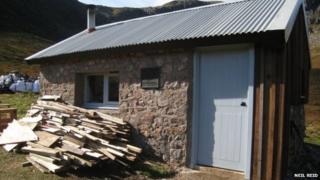 Thieves have broken into a locked store in a remote mountain shelter and stolen food, drink and fuel for a stove.
The supplies were meant for volunteers who maintain the Hutchison Memorial Hut in the Cairngorms.
The bothy sits at 2,500ft (762m) in Coire Etchachan and is used as a refuge by hillwalkers and climbers.
The theft has been criticised by the Mountaineering Council of Scotland (MCofS) and walkers' website Cairngorm Wanderer.
The hut is one of about 100 shelters in Scotland, England and Wales maintained by the Mountain Bothies Association.
A MCofS spokesperson said: "It's very disappointing to hear about thefts like this, especially in an area where trust is so important and where volunteers are the victims."
The Hutchison Memorial Hut was given a revamp three years ago.