Lochaber MRT in rare 'rant' following Ben Nevis rescue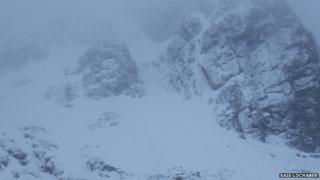 A Scottish mountain rescue team has spoken out on the actions of two climbers, changes to the police and helicopter search and rescue coverage.
Rescue teams rarely criticise and Lochaber MRT acknowledged that it was "breaking with tradition" with its "rant" on its Facebook page.
It said MRTs were facing major challenges following the creation of a single police force.
The post followed the rescue of two men on Ben Nevis on Wednesday.
The pair were among a group tackling a route on the mountain just days after a warning from Sportscotland Avalanche Information Service about the high risk of avalanches.
Lochaber MRT, which described conditions on the mountain as "horrendous", was called to go to the group's aid after one of the climbers fell.
Two other members of the group then got into difficulty during the rescue.
In its post, Lochaber MRT said: "We told them again to stay where they were but they obviously knew better and carried on which resulted in both of them falling down over the crags at the head of Coire Eoghainn.
"They both fell 200m plus past their mate who was stuck on some steep nasty ground.
"Luckily they both escaped with minor injuries - probably due to the amount of snow cushioning their landings over the steep ground."
The rescuers said they had to abandon "lots of gear" and almost 1,000ft (300m) of their rope was damaged.
'Major challenges'
One of the fallen climbers was taken to Belford Hospital in Fort William before being transferred to Raigmore Hospital in Inverness.
The post on Facebook praised the efforts of the Lochaber MRT members involved and the crew of an RAF Lossiemouth search and rescue helicopter that tried to assist in the rescue.
The RAF hands over the search and rescue role to a private company on 1 April. Lochaber MRT said the new operator will have a hard act to follow.
The team's post goes on: "We are seeing major challenges to mountain rescue, particularly in the Highlands, with the introduction of a single police force and the privatisation of the search and rescue helicopter service which is making our role more complicated than it need be.
"We are also concerned about potential dilution of funds which were originally being ear marked for mountain rescue being diverted to other areas which are not technically mountain rescue - albeit as important.
"With the police having to make budget savings there is a risk of some of the roles they have traditionally covered now being farmed out to mountain rescue teams, particularly in the lowland setting which is putting the allocation for the teams that operate in the remote mountainous regions at risk."
The post added: "Rant over. Well done Lochaber you were brilliant last night."