EU approves rural fuel rebate scheme rollout to 17 areas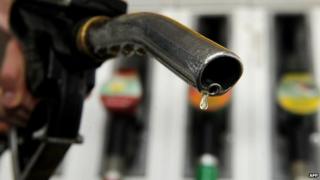 The European Union has approved the rollout of rural fuel rebates to 17 areas in Scotland and England.
The scheme allows retailers to claim back up to 5p per litre duty relief on unleaded petrol and diesel, and pass on the savings to customers.
The 17 areas include parts of the Highlands, Argyll and Bute, Northumberland, Cumbria, Devon and North Yorkshire.
The rebate, which already had EC approval, will be introduced on 31 May.
The UK government's discount has applied to the Hebrides, Northern Isles, islands in the Clyde and the Isles of Scilly since 2012.
The Highlands postcodes involved are: IV54, IV26, IV27, PH36, IV22, PH41, KW12, PH23, PH19, IV21 and IV14.
The Argyll and Bute postcodes are PA80 and PA38.
The English ones are: NE48 (Northumberland), LA17 (Cumbria), EX35 (Devon) and Hawes in North Yorkshire.
The UK government said they were selected because of the high prices of the fuel available and the expense of transporting petrol and diesel to fillings station in the areas.
Chief Secretary to the Treasury Danny Alexander said: "People will see lower prices from the end of May, with filling stations in the 17 selected areas able to register for the scheme from 1 April.
"Combined with the current fall in oil prices and the freeze in fuel duty rates nationwide, this 5p discount on fuel prices will provide a much-needed boost to families who face the highest fuel prices."